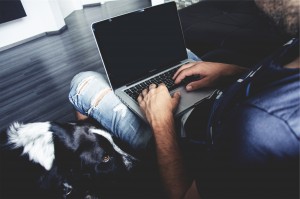 Ken Simmons is the main character in my novel Dark Ties. He's a crime fiction writer living in the fictional town of Murphy Creek, West Virginia with his wife Sara. Over the coming months you will find excerpts from his novels on this blog.
Ken writes under the name K. Elliot Simmons because he felt it sounded better than Ken E. Simmons when he wrote his first novel Roadside Stalker.
In the spring of 2013 Ken was approached by a deranged fan who shot him in the face. The fan, who Ken and Sara refuse to mention by name, felt that if he killed Ken, Ken would write his next book about him.
Ken spent several months recovering from multiple surgeries to repair the damage to his face. When he is finally able to go back to work he finds he is suffering from extreme writer's block. Eventually he breaks the block and writes a new novel called Terror In Suburbia.
Sara doesn't like Ken's new book. She finds it excessively violent and gruesome. Ken doesn't much care for it either, but his fans love it, coming out in record numbers to meet Ken and get a signed copy. Ken and Sara soon discover Ken's new book is more than just a story about a serial killer…